Sonos Controller 200 Rochester NY
How do you justify a $349 Sonos hardware controller when you can get nearly duplicate functionality in a free iPhone app? Make it snappy, offer solid battery life, and gently tweak the interface.
---
Glenwood Sales Company
(585) 328-1600
594 Hague St
Rochester, NY
Heilind Electronics Incorporated
(585) 475-0850
3 Townline Cir
Rochester, NY
Masline Electronics Incorporated
(585) 546-5373
511 Clinton Ave S
Rochester, NY
Gaines Audio
(585) 266-0780
168 Rosemont Dr
Rochester, NY
Car Stereo Sales Service
(585) 621-9481
630 Ridge Rd W
Rochester, NY
Goldcrest Electronics Corporation
(585) 546-8464
700 Goodman St S
Rochester, NY
Efector Incorporated
(585) 325-6030
311 Alexander St Ste 409
Rochester, NY
Rochester Electronics Sales & Servs
(585) 663-6870
630 Ridge Rd W W
Rochester, NY
Sldc Incorporated
(585) 342-2120
1855 Monroe Ave Ste 7
Rochester, NY
General Surplus Electronics
(585) 338-7001
182 Avenue D
Rochester, NY
Sonos Controller 200
by Christopher Breen , Macworld.com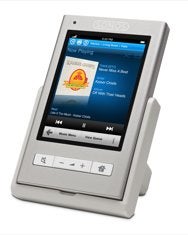 Recent Playlist Posts
What we're watching and listening to right now
Review: Sonos Controller 200 (CR200)
Dealing with podcast glut
Playlist home View all Macworld blogs
Sonos, makers of the Sonos Multi-Room Music System (

), made an interesting decision several months ago. The company chose to create the free Sonos Controller iPhone application. This application not only duplicated the functionality of Sonos' $399 CR100 hardware controller, but was actually easier to use than the CR100 thanks to the iPhone app's touchscreen interface and built-in virtual keyboard. (The CR100 uses a scroll-wheel/button arrangement, which makes entering text a little clumsy.)
The existence of that app basically torpedoed the CR100. After all, why pungle up a buck-short-of-$400 when, for $229, you could control your Sonos system with an iPod touch that just happens to also be an iPod touch? But the hardware controller is not dead to Sonos, as evidenced by the recently released $349 Controller 200 (CR200) .
The form
Slightly larger than a deck of cards at 4.5 inches tall, 2.9 wide, and 0.7 inches thick, and bearing a 3.5-inch, 640- by 480-pixel color touchscreen display, the CR200 is significantly less bulky than the original CR100 controller. Below the screen are hardware buttons for the features you'll use most often—Mute, Volume, and Zones (for selecting and grouping the Sonos players in your network).
The CR200 bears a light sensor in the upper-left corner, and items at the top of the screen indicate Wi-Fi signal strength, the time, and battery status. The unit runs off a proprietary, replaceable 1850mAh Lithium-Ion Polymer battery; Sonos estimates battery life of 2 to 5 days, depending on usage patterns and sleep-timer settings. A charging cradle, optional for the CR100, is bundled with the CR200. Like the CR100, the new remote automatically sleeps when you're not using it, immediately waking up as soon as it's moved.
While not officially water-resistant like the original CR100 controller—Sonos tells me the CR100 could withstand being briefly submerged in water—the CR200 can survive the occasional splash, which is handy as I keep my Sonos controller in the kitchen.
The function
If you're middling-heeled enough to afford a Sonos system, chances are you also own an iPhone or iPod touch. And, if so, it's almost a dead certainty that you own the free Sonos Controller application. And, once again, if so, you're interested to know how the CR200 functions differently from the free iPhone app .
The answer is simple: Hardly at all. The two interfaces are virtually identical save for cosmetics and those settings specific to the controller. The exceptions? The CR200 features an easier-to-use Music Menu (the main menu for accessing the system's features) and the ability to obtain additional information about some musical content.
For those unfamiliar with any variety of Sonos controller, they work this way: Like an iPod touch, the CR200 and the Sonos Controller app bear a hierarchical interface. Tap a command on the main Music Menu and work your way down, through a series of menus, to arrive at the function you want. For example, from that Music Menu you choose your music source—the contents of your iTunes library, terrestrial and Internet radio stations, streaming music services such as Pandora, Last.fm, Napster, and Rhapsody—your Sonos playlists; line-in sources; alarms; and system settings.
Tap a content entry (Music Library, Napster, or Rhapsody, for example) and you have the option to search the library for specific content or browse by artist, album, or channel/playlist. In the iPhone app, you adjust volume using a virtual slider at the bottom of the screen and choose zones by tapping the Zones button in the the screen's bottom-left corner; as I mentioned earlier, the CR200 has hardware controls for these functions.
While the iPhone app and controller are quite similar, the Music Menu is presented differently on each. Rather than offering Music-Menu items in a list, the CR200 gives each an individual button. At the bottom of the display is a gray bar that bears other commands—Clock, View Queue, and Now Playing; when you venture away from the Music Menu screen, a Music Menu button appears in this gray bar along with a Back arrow and a View Queue button. There's also an Info button for performing such tasks as managing playlists and library contents, accessing album and artist information when using Rhapsody, adding terrestrial radio stations to your list of favorites, and adding new stations to Pandora. Of these features, the Rhapsody album/artist information feature is unique to the CR200.
Why?
If the iPhone app and CR200 are so similar, why purchase the CR200? Some Sonos owners may choose not to—the iPhone app is just that good, making the less-expensive iPod touch mighty tempting. However, in fairness to the CR200, the hardware controller has its benefits.
To begin with, the CR200 is far snappier than the iPhone app. Tap a button, and the desired action happens now versus nnnnooow. Having dedicated buttons for Mute, Volume, and Zones makes it easier to work with these common features. And it's nice having a dedicated controller available whenever you want it rather than an app that you must locate on your iPhone or iPod touch (often requiring you to quit another application you're engrossed in just to do something with your Sonos system). The dedicated controller is also useful when you want to pass it to someone you'd rather not have rifling through your iPhone or iPod touch (your child or nosy father-in-law, for example). Finally, being able to pick up the controller after a couple days away from the charging cradle to discover only half the battery gone is welcome.
Macworld's buying advice
Having lived with the CR200 for a few days, I've gotten into the habit of using it rather than my iPhone to control my Sonos system. Most of all I appreciate its responsiveness, the subtle interface tweaks that allow me to find the music I want a little more quickly than I can with the iPhone app, and the fact that it's ready to go as soon as I pick it up. It's a very nice bit of gear. But the existence of the Sonos iPhone app and millions of iPhones and iPod touch units in the world guarantee that not every Sonos owner will be drawn by its charms.
[Christopher Breen is a Macworld senior editor.]
Click here to read article at MacWorld