Sports Radio for iPhone Syracuse NY
This specialized radio app for the iPhone and iPod touch harnesses readily available live Internet streams of sports radio stations. For sports fans looking for a way to listen to their local sports radio station when they're out and about, Sports Radio is a good option.
---
City Electric Co, Inc.
(315) 474-7841
514 West Genesee Street
Syracuse, NY
Services
Lighting Retail, Electric Contractors Residential, Electric Equipment & Supplies Wholesale & Manufacturers, Consumer Electronics Stores, Electric Equipment & Supplies Job Lots
Payment Options
American Express, MasterCard, VISA, Debit Cards, Discover, Personal Checks,


Down to Earth Electronics Incorporated
(315) 445-2770
2606 Erie Blvd E
Syracuse, NY
Rent A Center
(315) 425-7566
344 N Salina St
Syracuse, NY
Jac Electronic Systems
(315) 278-2729
117 E Brighton Ave
Syracuse, NY
East Coast Components
(315) 454-0801
156 Malverne Dr
Syracuse, NY
Palmisano Television Repair
(315) 422-7509
204 Union Pl
Syracuse, NY
Right Choice Sales & Leasing
(315) 475-4906
600 N State St
Syracuse, NY
Arcom Labs
(315) 422-1230
185 Ainsley Dr
Syracuse, NY
Videotronics
(315) 458-0387
208 E Molloy Rd
Syracuse, NY
Geddes TV Sales & Service
(315) 487-3305
1015 State Fair Blvd
Syracuse, NY
Sports Radio for iPhone
Posted on by Brendan Wilhide , Macworld.com
Sports Radio for the iPhone puts your favorite sports radio station in your pocket. The $2 app from Intersect World features local, national and even several international sports radio stations. The program harnesses readily available live streams over the Internet in a very simple application. Still, while Sports Radio is straightforward to use, the application can be frustrating at times.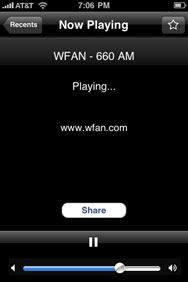 Be a Good Sport: Its interface isn't flashy, but that's not the point with Sports Radio. The app delivers streams from sports radio stations—including New York's WFAN, in this case—to your iPhone or iPod touch.
In its current iteration, Sports Radio includes 25 national stations, mostly from major cities like Boston, Los Angeles, Boston and New York as well as many more smaller local stations. Most of the big name stations are here, including WEEI in Boston, WFAN in New York and WIP in Philadelphia for sports fans on the East Coast. A national ESPN feed is also available. Sports Radio also includes a smattering of international stations from countries like Brazil, Finland, France, Germany, and Venezuela. Intersect World also just added a directory of Canadian stations.
After the big name stations, the remaining local stations are more of a grab bag from across the country. Local ESPN-affiliated stations are not included—a restriction imposed on Intersect World by ESPN—so if you're looking for your local ESPN affiliate, you're out of luck.
All stations are sorted alphabetically by their call letters with the station location in tiny gray letters underneath. While the current list of stations isn't so large as to make navigating the list difficult, an option to search stations by city or state would be helpful.
The quality of the available streams is quite good. I rarely experienced any problems with choppiness or sputtering feeds while testing Sports Radio on both WiFi and 3G networks.
Sports Radio includes Twitter and Facebook integration but this feature is rather poorly implemented. After authorizing Sports Radio to access your Twitter and Facebook accounts, the program tweets "I am listening to [radio station name] on Radio for iPhone" or posts the same thing to your Facebook profile. I can't see any reason why a user would utilize either supported integration in its current state.
For sports fans looking for a way to listen to their local sports radio station when they're out and about, Sports Radio is a good download. Before you buy, though, be sure to check Sports Radio's App Store listing, which includes the latest set of supported stations.
Sports Radio is compatible with any iPhone or iPod touch running the iPhone 2.2.1 software update.
[Brendan Wilhide is a frequent contributor to Macworld.com. He writes about sports on Twitter and validates athlete Twitter accounts at his Web site .]
Click here to read article at MacWorld